In the less-than-truckload industry, the last mile is famously the most difficult. The efficiencies of the LTL process in aggregating and moving freight from many different senders through a network of trucks and warehouses are reversed.
In the last mile, shipments are unbundled and sent to individual endpoints, with different delivery requirements, through a shifting series of routes and schedules.
Getting deliveries made on time, every time is important, especially in business-to-business commerce where a late or mishandled shipment means blown deadlines and wasted resources. Transparency and good communication are key to ensuring deliveries are made without confusion or mistakes. That's why Expressit's online tracking system allows you to follow and receive notifications about shipment deliveries in real-time.
Why is real-time tracking
important for shippers? Customers don't always take an interest in where their purchase is coming from – but they are emphatically concerned about where they get it and when. More than four in five customers give as much weight to the way brands treat them as to the products they sell. Three in four say that delivery is key to their overall shopping experience, driving brand loyalty and trust.
Customers want to know in real-time what stage of the delivery process their shipment is in, and when they can expect arrival. Particularly during the current supply chain stresses, the companies that can communicate openly and proactively with customers about problems and delays are better able to maintain strong relationships than those who provided passive tracking updates. Investments in retaining customers cost a fraction of what it costs to acquire new customers.
At ExpressIT we tackle the confusion that can cause fumbles in the last mile of delivery by providing transparent, proactive communication. If freight has come in late due to supply chain delays, we can easily divert it to a different address, often getting it where it needs to be on the same day. If a shipment is bound for a secure worksite, advance notice of delivery is given so that the delivery driver can be met by the right receiver, or special instructions on the location of the delivery can be made. Every delivery is accompanied by a record of who received the shipment, and a photograph of where it was delivered, eliminating any confusion about where and how a delivery occurred.
How does it work?
Most of our freight orders come to us in the middle of the night or the dark hours of the morning. As the morning routes are planned, a sequence of progress updates begins. While these can be viewed as website updates or e-mails, they can also be sent as text messages, making it easy for personnel at a worksite to stay on top of delivery status and timing or call us with questions.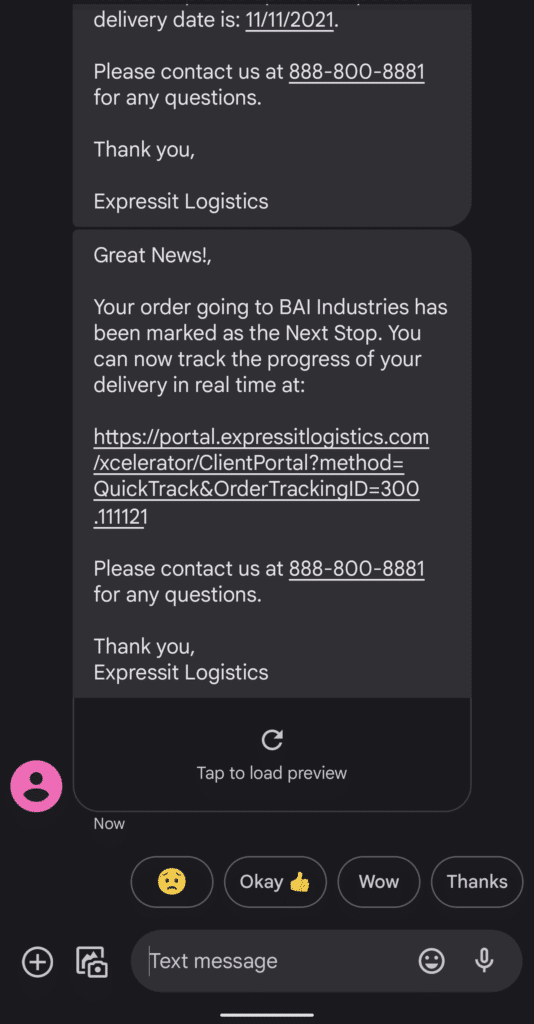 Receivers are notified when the shipment has been assigned to a driver, when the driver has left to pick up the freight, and when the pickup is complete.
Once a delivery is the next stop in a driver's route, a notification is sent out and real-time GPS tracking starts, allowing receivers to track the delivery truck's progress toward them on a map. That gives the receiver a chance to understand the timing of the delivery and send instructions, like "meet me at the side loading dock," to descend from the 30th floor, or to send a worker through security at a secured worksite to meet the delivery truck, ensuring a smooth handoff.
Following delivery, the name of the receiver and a picture of the location where the freight was delivered are attached to a virtual receipt and sent as a final notification.
The care and professionalism we provide in the delivery process is our greatest strength, and we are proud to partner with shippers to provide customizable solutions, on time, every time, in real-time.